New scheme to ensure future water supply
SELANGOR's new Rasau Water Supply Scheme is an initiative by Air Selangor to ensure the sustainability of clean and safe water supply for future generations in Selangor, Kuala Lumpur and Putrajaya.
The development is a long-term plan to further increase the water reserve margin, especially for users in the Klang, Petaling and Kuala Langat regions.
The scheme will be the largest water supply scheme in Southeast Asia, capable of producing approximately 1,400 million litres of treated water per day.
The scheme encompasses up to nine ex-tin mining ponds of 489 hectares and the biggest of which is about 185 hectares, serving as an Off-River Storage (ORS) facility.
This dual-function ORS will be the first project in the country for water supply and flood mitigation.
Raw water will be drawn from Sungai Klang and channelled to these ponds. The ponds will serve as ORS, as well as conduct the pre-treatment process of settling sediments in their beds.
The pre-treated water is then channelled to the Sungai Rasau Water Treatment Plant, where it will undergo further treatment before distribution to consumers.
The construction of this scheme will cross several highways, namely the North-South Expressway of Central Link (ELITE), the Shah Alam Expressway(KESAS), the Pantai-Barat Expressway(WCE) and the South Klang Valley Expressway (SKVE).
Uninterrupted access to water
The scheme is important because it will provide consumers with uninterrupted access to water even if there are water cuts due to maintenance or for other reasons, including pollution.
When a water supply pollution incident occurs, it will affect the quality of raw water to be abstracted and treated before being distributed to consumers.
This may affect the operation of Air Selangor in supplying water to consumers and cause water cuts.
Therefore, one of the solutions to this problem is the construction of the scheme to reduce the risk of water supply interruptions due to pollution incidents. In the event of any water pollution at Sungai Klang, the water treatment plant can still operate with no interruptions.
Reducing dependency on single water source
At present, consumers in the Klang region are completely dependent on a single source of water supply from the Sungai Selangor Scheme, which can face a high risk in the absence of water supply.
This is why it has been a priority for Air Selangor to identify new raw water sources to ensure continuous treated water supply.
When the new treatment plantis fully operational in 2030, it will supply up to 60 per cent of clean and safe treated water supply to the Klang region.
Improving water reserve margin
At the endoflast year,the water reserve margin in Selangor, Kuala Lumpur and Putrajaya stood at 12.02 per cent.
Air Selangor identified the scheme as a new water scheme that will help increase the water storage margin to over 15 per cent by 2025, and 17.7 per cent by 2030.
Klang River as a new water source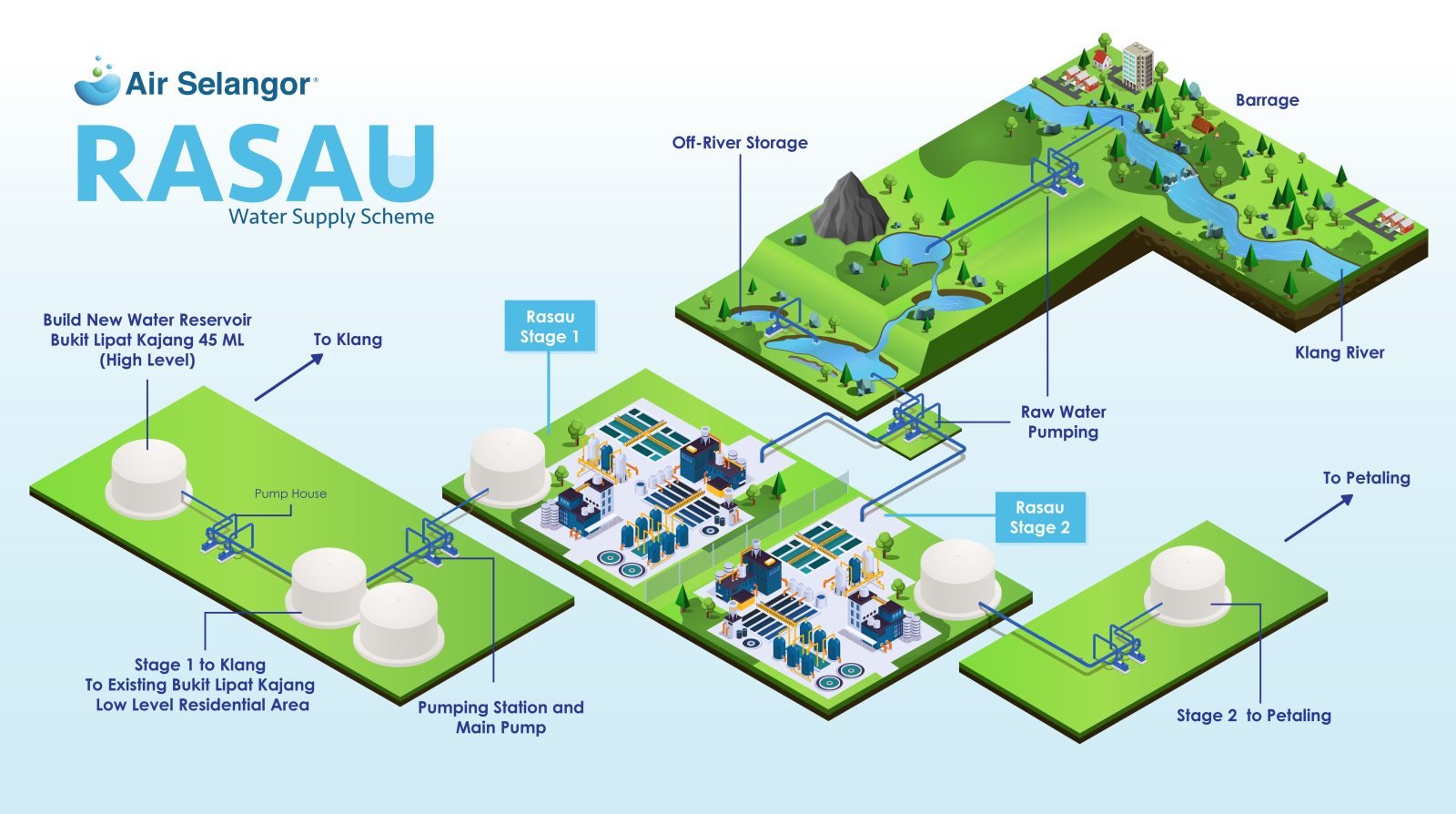 The Sungai Rasau water treatment plant uses theKlang River, which is the third largest water catchment area in Selangor with an area of 1,288 square kilometres after Sungai Selangor and Sungai Langat, as a new water source.
Through this project, Sungai Klang will be revived and given a new lease of life. In addition to being a new source of water supply, Sungai Klang can be utilised for its potential for recreational, economic and national tourism activities.
Construction phase
The scheme started development at the end of 2021 and is divided into two main stages of construction. The first stage of this project is expected to be completed by June 2025 andthe second stage by 2030.
Under the first stage, the plant has the capacity to produce clean and safe treated water supply of 700 million litres per day to 467,000 user accounts in Klang.
Clean water supplies will be distributed to Pulau Indah, Port Klang Free Zone (PKFZ), Pulau Ketam, Taman Bukit Lipat Kajang, Seksyen 16, Bukit Rajah Industrial Area — Pelabuhan Utara, Bukit Tinggi & Botanik, Bandar Puteri & Putera 2, Taman Sri Andalas, Taman Sentosa, Bayu Perdana, Bandar Klang, Teluk Gedung, Persiaran Raja Muda Musa, Sobena Jaya, Pandamaran, Jalan Tengku Badar until Sijangkang (Kuala Langat).
In ensuring a sustainable and continuous water supply to the Klang and Petaling regions, Air Selangor plans to build and complete the second stage of the plant, which is capable of supplying 700 million litres per day of water supply to 467,000 user accounts by 2030.
When fully completed by 2030, the entire scheme is expected to supply 1,400 million litres per day of water to a 934,000 user accounts.
This article was published on 29 May 2023 in the New Strait Times.